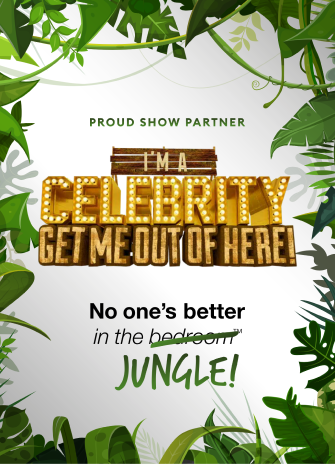 Bedshed survived the jungle!
We're a proud show partner of I'm A Celebrity Get Me Out of Here Australia, and helped to shake things up in the jungle from Monday 13th to Thursday 16th January! Did you tune in to see exactly why no one's better in the jungle?
Each night, one lucky celebrity won the opportunity to become the Master, and spend the night in a luxurious Bedshed bed, complete with their own campmate Minion to do their bidding. Over the week we saw Tom Williams, Billy Brownless and Rhonda Burchmore enjoy a good night's sleep while Cosentino, Tanya Hennessey and Erin Barnett did their bidding, which included everything from bedtime stories to massages to quietening down the rest of the camp!
Here are a few of our favourite moments...
Tom was the first cab off the rank, and boy were the others jealous!
Erin flexed her amazing storytelling skills as Rhonda's minion.
Erin enjoyed making a bed WAY too much! We might have a job for her if she wants it…
Billy needed a few moments to himself during his reign as Master.
Our research for The Bedroom Report told us that women over 55 are least likely to admit they fart in bed. We think Rhonda may be an exception!
The Bedroom Report told us that although 43% of men snore, only 32% will admit to it – we wonder if Dilruk owned up to his nocturnal noises!
During Bedshed's week in the jungle we took the opportunity to give back to our social media followers, giving away 2x Tempur pillows each day for four days (valued at $658). Participants needed to watch the show and answer a simple question from the night before. All correct answers then went into the draw to win the Major Prize of a Tempur Adjustable Bed Package worth over $6000 – no tucker trial required!
If you missed out on these great prizes, make sure you're following us on Facebook and Instagram to stay up to date on all current competitions and giveaways!
Click here to access the Bedshed Facebook.
Click here to access the Bedshed Instagram.
Don't forget to tune in to I'm A Celebrity Get Me Out Of Here, Sunday to Thursday at 7.30 on Ten!