Chic modern bedroom styling
Achieving a chic modern look in the bedroom isn't easy. It's an aesthetic that's difficult to define and getting it just right is a careful balancing act between contemporary and cozy. If you've ever wondered what exactly makes decor 'modern', you're not alone. 
Contemporary design is all about clean lines and sharp design. Neutral shades like whites, tans, greys and greys are often used as a base, with pops of black, navy or bold colour. Simplicity and strategic use of texture are key in a chic, stylish space. 
With its pared back pieces and clean surfaces, modern decor and styling is often considered to be the antithesis of traditional or classically styled bedrooms, which often favour luxe textures like velvet and a more-is-more approach to design accents. 
The great thing about modern decor is that it is so versatile and can be mixed and matched with other decor styles to create an eclectic space. Read on below for Bedshed's top tips on styling a modern bedroom!
Stick to the bare essentials
Chic spaces should look sleek and simple. Spaces should look thoughtfully edited and stripped back to only what is needed. In a bedroom space, that means getting rid of the clutter. Take the time to carefully plan your space and remove anything unnecessary - stick to basics like your bed, bedside tables and perhaps a dresser to store your clothes or other essentials. Look for beds that are capable of doing double duty and acting as both a storage space and a place to sleep and choose bedside tables that allow some room for keeping items that you want within reach at night - this will help you to keep additional storage of your floors and minimise shelving on your walls.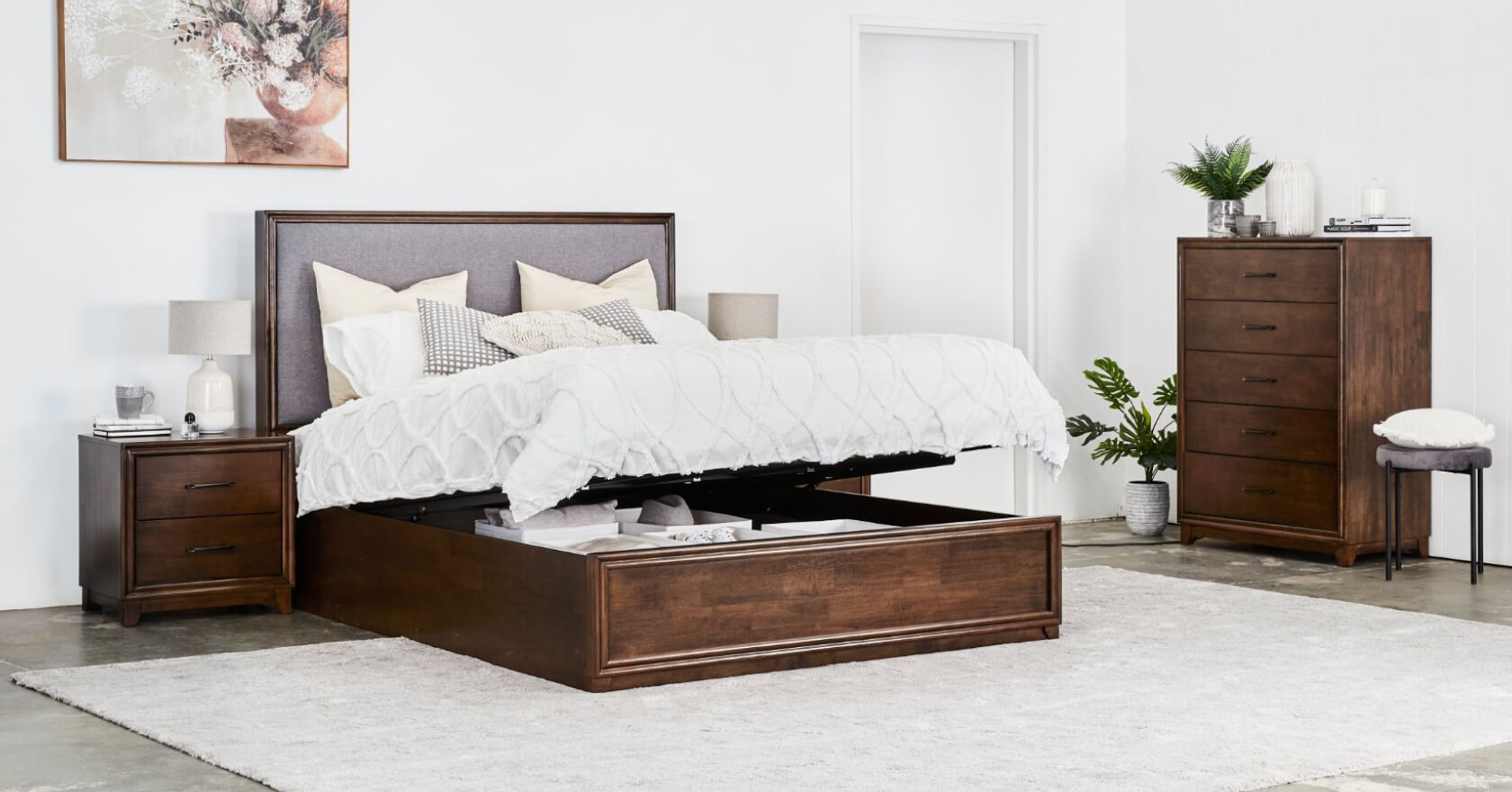 Our Madison timber bed frame offers underbed storage
Mix your materials
Modern bedrooms need to look cohesive, but that doesn't mean everything needs to match. Give your room an industrial feel by mixing timbers with metals, or use bedside tables and dressers to accent a statement bed. Gold and marble materials are often a great complement to an upholstered bed frame, whilst Scandi timber bed frames pair well with stark black's and white's or soft, neutral grey. Alternatively, select a matching bedroom suite and create variation with your soft furnishings. Textured bedding, cushions, curtains and rugs can create visual interest. Small details like lamp shades, candles and artwork can also add to the overall effect of your bedroom 'working'.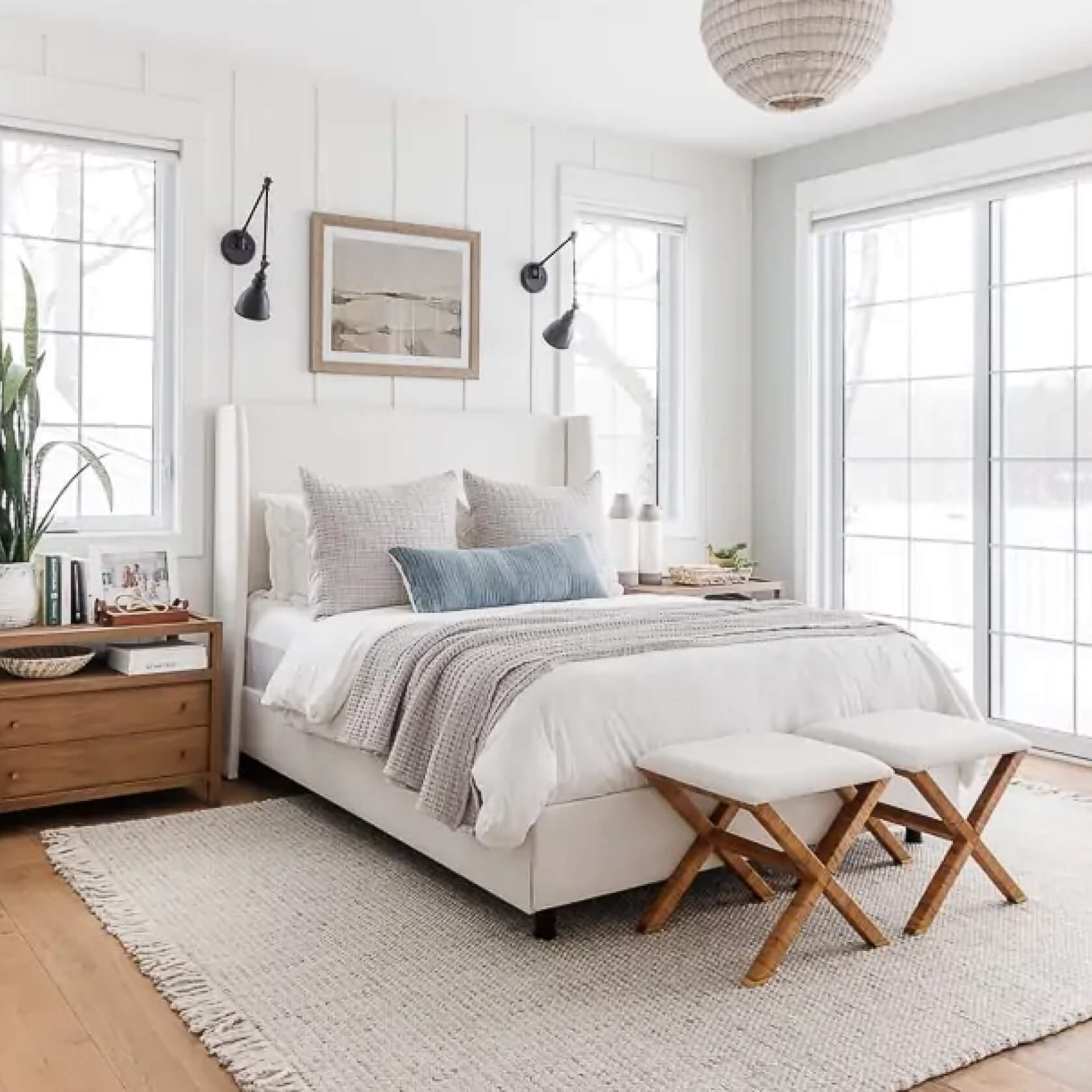 Image credit: Rambling Renovators
Focus on layout
Modern bedrooms require a modern layout. Use a bedroom planner to assist in the layout process and maximise flow. The main thing you'll want to focus on is ease of movement around your bedroom - you shouldn't run into any obstructions when walking into your room or around your bed. If you're bumping into things, consider whether or not they need to live in your bedroom. Clutter is the enemy of a good night's sleep. If you tend to do work in your bedroom, or use it as your main Netflix watching space, you should consider changing that. A bulky desk or TV do more than just take up space - they can impact on how well rested you feel in the morning. Your bedroom should be a calm sanctuary away from the distractions of daily life.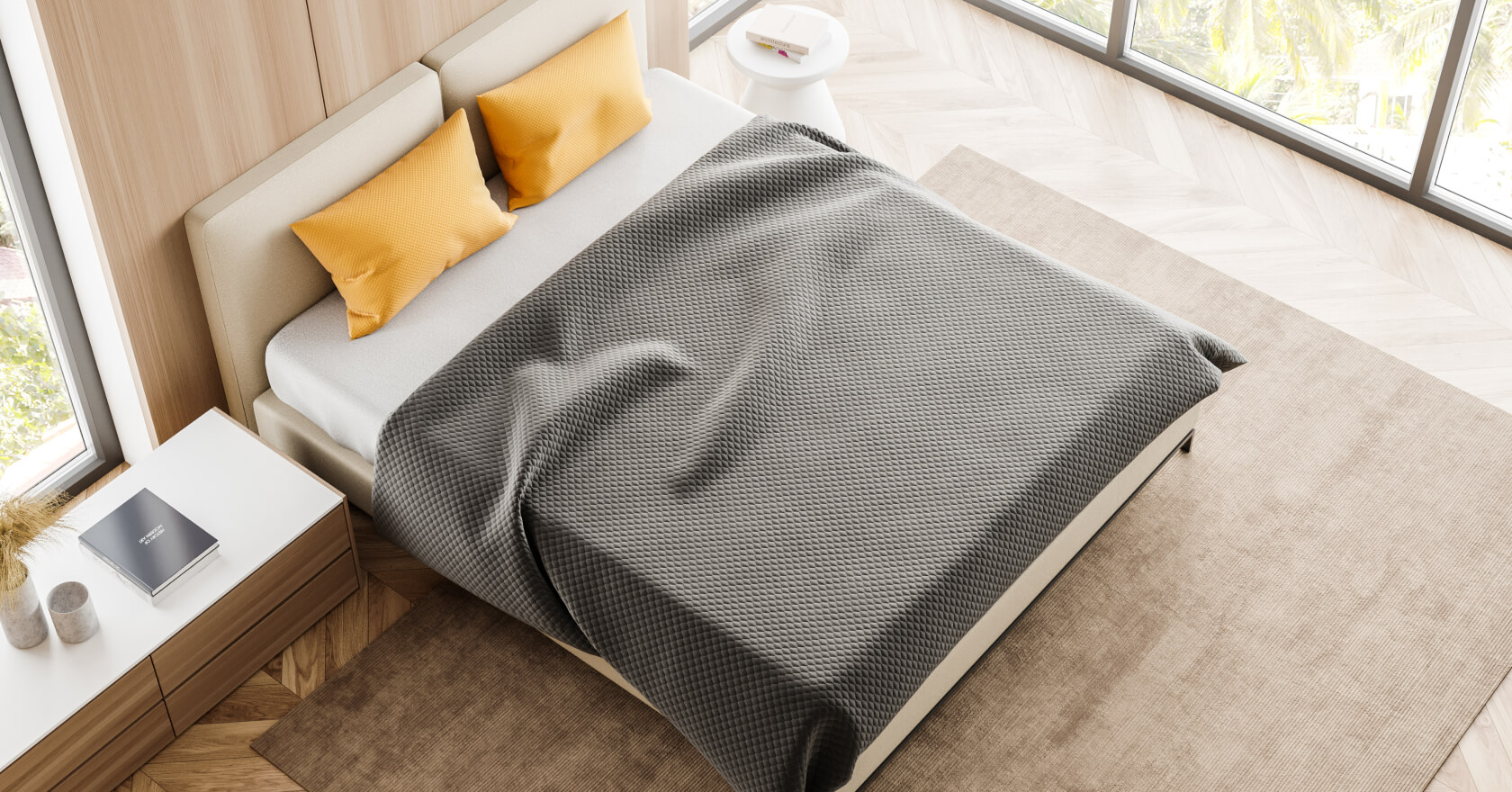 For help selecting modern bedroom furniture visit our bedroom experts in-store, or shop by style online!
Need help choosing your bedroom furniture?
Try our Bedroom Planner Tool to visualise how our bedroom furniture will fit in your room or visit our in-store for expert advice and guidance!