Spring Mattresses vs Memory Foam Mattresses
You'll spend a third of your life in bed, so it's well worth weighing your options when it comes to finding a mattress. New memory foam technology and increasingly smart spring designs mean our customers are sleeping better than ever, and face a challenging choice – memory foam or innerspring?
Bedshed have been matching Australian's to their perfect mattresses for more than 30 years, and we can help you settle the debate between memory foam and spring mattresses! But first, there's a few things you should understand about the two different types of mattresses.
What are spring mattresses?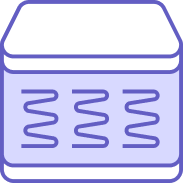 When you think about mattresses, what springs to mind? In all likelihood, it's probably the traditional innerspring mattress. You've almost definitely slept on one before – they are by far the most prevalent type of mattress in bedrooms around the world.
Invented during the industrial revolution, they represented a big shift in bedding technology and they've continued to advance ever since. Nowadays you can find a spring bed to suit just about every comfort preference, health requirement or budget imaginable.
So what are they?
Spring mattresses are constructed from a number of materials, but most notably they include a number of steel coils designed to compress under your body weight, these are contained within the 'spring zone' (the area that gives you your greatest support) under a comfort layer. There are a few different ways a spring mattress can be built to provide better support, or different levels of softness and comfort. The shape, size and number of coils for example can differ between mattress models and impact on the comfort of the mattress.
Although they might look similar on the outside, there are actually five different types of innerspring mattresses, of which Bedshed stock four kinds: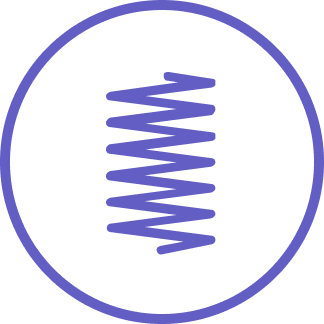 Open Coil (Bonnell)
Open coil is the classic and oldest form of spring mattress and is constructed with single coils (shaped like an hourglass) that are affixed to a wire frame to form a mat, each coil is then attached to adjacent coils with smaller 'helical' coils. Open coil mattresses tend to be very light and allow for good air flow – they're perfect if you're one of the 26% of Australians who say their partner makes the bed too hot! (The Bedroom Report)
Check out Bedshed's Dreamsense Slumber Mattress for affordable head to toe support.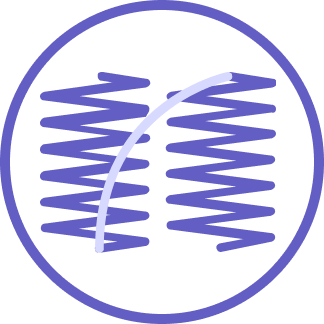 Continuous Coil
Continuous coil mattresses can be incredibly durable, owing to their interconnected design. Each coil is shaped from a continuous length of wire, connected to the top and bottom of a frame to help the mattress hold its shape.
The Sleepmaker Physio Mattress uses advanced 'miracoil' technology – strengthened z-shaped coils that provide durability and support around the hips and shoulders.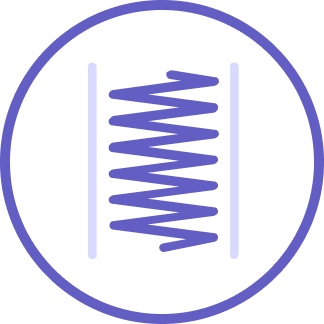 Pocket Coil
As the name suggests, pocket spring mattresses are made up of individual pockets, each with a separate spring sealed within. This construction is excellent for comfort and perfect for couples who experience partner disturbance, as it allows springs to operate independently of each other. Bedshed stock a range of pocket spring beds, as they tend to be the most popular technology due to their ability to reduce partner disturbance, and provide body conformance and support where it's needed.
For an undisturbed night's sleep consider our Dreamsense Serenity range, or our Insignia Luxuria mattresses for affordable comfort. If you're after unparalleled luxury and a sleep experience like no other than you can't go past the Kingsdown Crown Imperial Mattress or the Kingsdown Vintage Mattress, both exclusive to Bedshed.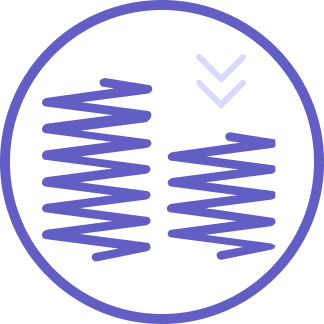 Zoned Spring Mattress
Advanced in mattress technology have seen the development of 'zoned' mattresses. These mattresses are divided up into 'zones' with different levels of support appropriate to normal body weight distribution, designed to assist your body with support where you need it the most.
For a beautiful night's sleep try Sleepmaker Cocoon Black or Luxe range which combines spring and foam with smart Sensorzone technology.
What are memory foam mattresses?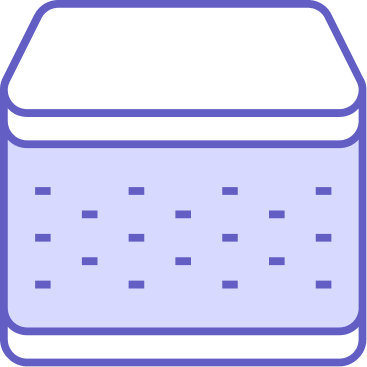 Memory foam is a visco-elastic material with excellent pressure relieving capabilities because the material moulds to your body shape.
Unlike spring mattresses that will provide a bit of bounce-back, a memory foam mattress will mould to your body shape. The different feels are a matter of preference, but the relative 'give' of a memory foam mattress absorbs movement and is perfect for reducing partner disturbance - which is why it's also become a popular choice on the comfort layer of traditional spring mattresses.
The lack of open air spaces inside the mattress can also help to prevent dust mite infestation, and the best memory foam mattresses are made from hypoallergenic materials, so if allergies are a concern they are an excellent option.
Bedshed stock the Boxed by Dreamsense range which uses gel infused memory foam that conforms perfectly to your body, and comes conveniently packaged in a box!
Or check out our Tempur range, which uses patented technology designed by NASA to give you the best night's sleep. You can find out more about Tempur mattresses here.
Choosing the right mattress for you
Whether you prefer the feel of memory foam or a springy mattress we've got you covered. Here at Bedshed we understand that there's a range of factors to be considered when finding the perfect mattress to suit your needs. Check out our helpful Mattress Selector tool to be matched to your optimal mattress. You can always find our range of memory foam and spring mattresses online or in-store - come and talk to us today!