Trundle Beds vs Midi Bunk Beds
These days it's all about double duty when it comes to bedroom furniture! Trundle beds and midi bunk beds both have additional functions in your kid's bedroom, but what's the difference and which should you choose?
For most people trundle beds evoke fond memories of night's spent watching movies and eating lollies. A sleepover staple; these space saving beds are a popular choice for children's bedrooms and households with regular visits from family and friends.
Designed with pull-out storage underneath, trundle beds are a convenient option when an extra bed is needed and are perfect for neatly storing mattresses or extra items out of sight when they are not in use.
Equally clever, the Midi bunk bed does double duty in the bedroom by maximising the use of floor space (similar to a loft bed) with plenty of in-built storage available beneath a raised bed platform. Midi bunk beds are an excellent option for creating more space in kids bedrooms. So which one is right for you? Bedshed are here to help you decide!
Here are some things you should consider.
Trundle Beds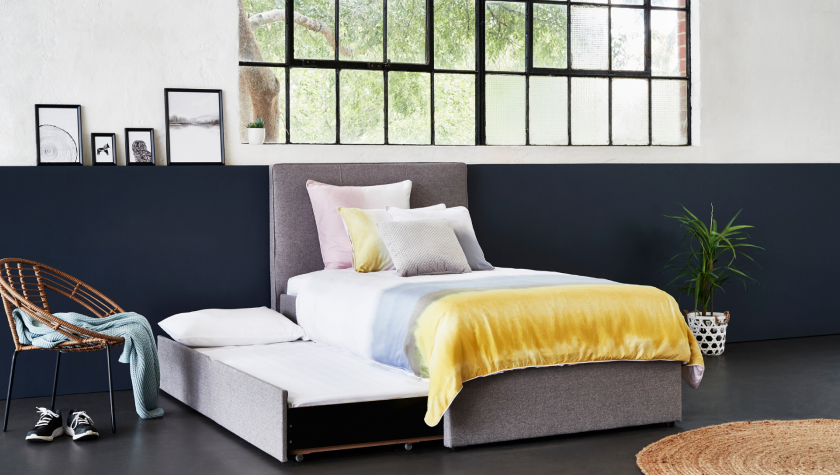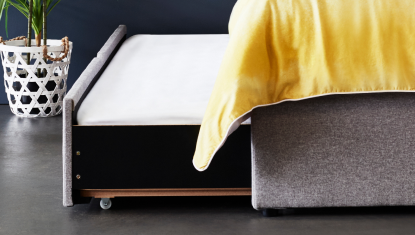 Trundle beds are fantastic because you get two beds for the footprint of only one! They're an excellent space saver and are the perfect choice for sleepovers. The pull-out bed can easily be set up and then stored away when not in use. It's a great solution for kids and tweens who want a comfortable place for their friends to sleep when they stay over.
They're also a great option for guest rooms, as trundle beds can even be purchased in the form of an unobtrusive day bed (ideal for multi-function rooms). They come in all kinds of other designs and configurations as well, from single and twin beds, pull-outs on wheels and beds made to maximise storage space with extra draws or shelving.
It's worth keeping in mind that trundle beds may not be the best choice for more permanent arrangements. If your kids share a room, a trundle bed could quickly become a point of contention and lead to squabbles over who gets to sleep on the main bed. If you're limited on floor space it could also be a problem as trundle beds can take up a lot of room when the pull-out is in use.
Midi Bunk Beds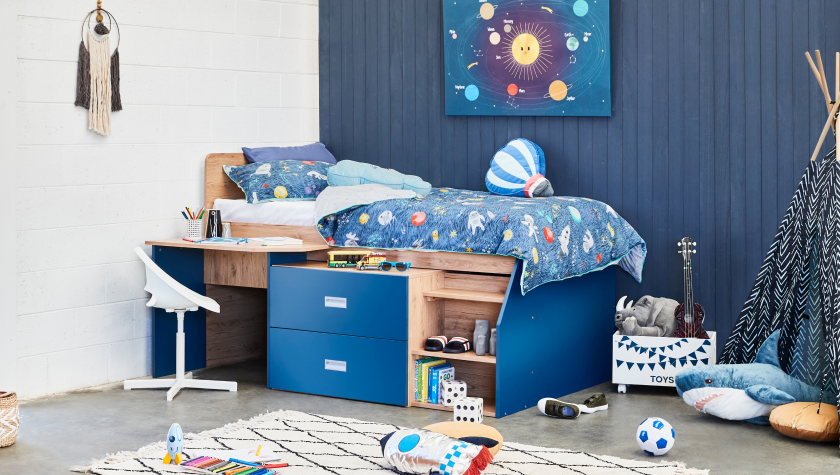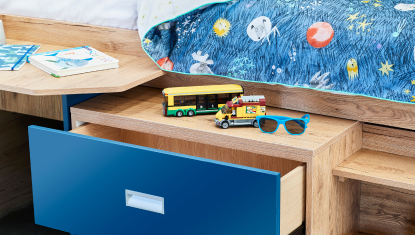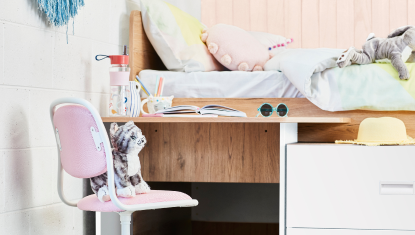 Midi bunk beds are the sophisticated cousin of the bunk beds you remember from your childhood. Rather than an extra place to sleep, a midi bunk provides additional storage space in the form of built in drawers, and a desk feature. They're also loved by kids for being higher than a normal bed, but not high enough for parents who feel anxious about their child falling off a standard bunk bed.
At Bedshed our Midi bunk range was designed with your kids in mind - our single-size Billie Midi bunk beds include fun pops of colour to suit different bedrooms. They're ideal for small spaces, cleverly utilising the area beneath the bed for concealed storage and even a desk. They're the perfect option for apartments or households where space is limited and are ideal for clearing more space for play.
Midi bunk beds are an excellent choice if creating space is your primary concern, they're an excellent solution for keeping everything concealed and tidy.
If you want to have a bed available for when people do stay, then a trundle bed might be a better choice.
Which bedroom space saver should you choose?
Can't decide? Try our bedroom planner tool to see which would work better in your space!
Handy planning tool
Planning the bedroom of your dreams is easier than you think, try our handy Bedroom Planner to see if your favourite bedroom suite will fit your room or visit us in-store today!
Check out our advice about which mattress to include on your kids bunk or trundle bed, or visit us in-store today.