Boys bedroom ideas
Decorating and furnishing your kid's bedroom is the perfect opportunity to get creative and let them express their personality! Make their space functional and fun, get inspired with some of the best boy's bedroom ideas and tips from Bedshed. 
Have fun with themes in a boy's bedroom
One of the best bedroom ideas for boys is to opt for a theme! A boy's bedroom presents an exciting opportunity for having fun with exciting themes that reflect their interests and personality. Use the things that make them unique as a starting point for decorating ideas, whether your little boy is into space, the ocean, dinosaurs or shades of blue – try to find ways to bring through his preferences and interests into the room.
Adding a theme to a boy's bedroom can be as simple as selecting coordinating kids room decor in complementary patterns or colours, and extending this through the lighting, floor mats and even furniture. Check out our range of kids beds and bedroom furniture, there are many functional and versatile pieces that will fit perfectly with any theme. 
Play with colour in your boy's bedroom
Colour plays an important role in learning and development, so throw out the neutral colour palette and have fun with colour in your kid's bedroom. Here are a few tips for working with colour in your boy's bedroom.
Dealing with a smaller boys room? Avoid a dark colour scheme as they absorb light and make the room look smaller. Light and bright colours are better options, as they are more reflective, making the space appear larger.
Want a colour that will stand the test of time? From the time they're barely a year old to their teens, it's important to find lasting ways to decorate boys rooms. While dramatic colours can provide greater impact, they are usually less adaptable to changing tastes. If you want something that will grow with your son, choose a neutral palette in the wall and brighten up the space with artwork, soft décor, bright furniture and colourful linen. 
Bedding is a great way to bring a theme into a kids bedroom as it can be changed every few years without breaking the bank. Select a quilt, sheets and pillows in bright colours, bold patterns or other themes your son loves. 
Consider adding a feature wall or wall mural. You can get your son's input by selecting his favourite colour. However, be mindful that brighter hues such as red may affect sleep and behaviour.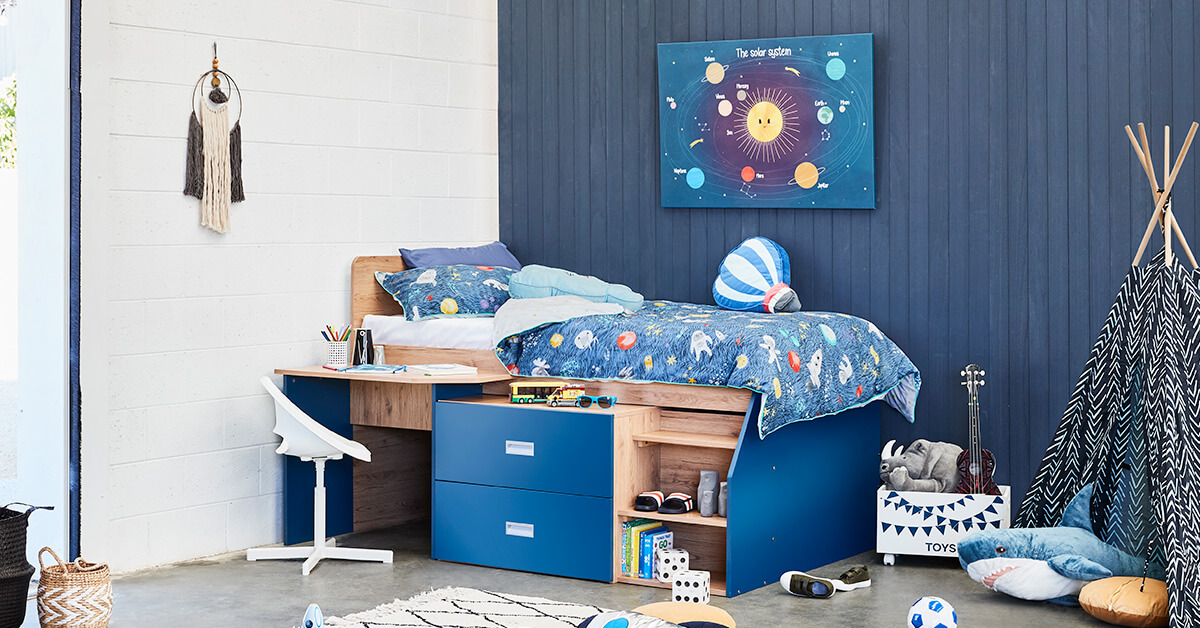 Add a study space
In addition to making your kid's bedroom about fun and creativity, it must also be functional! Set up a study desk or work area for your little man to get his work done. Older kids will benefit from the space to do homework, whilst younger kids can use the area for learning activities like reading and colouring – every kid can benefit from a dedicated zone to get work done! 
Include storage options
Every active, little boy needs plenty of bedroom storage! Look for bedroom furniture with storage to add to your kid's bedroom, this will help me to stay organised and keep their space looking neat. Having an area to keep all their essentials will make the morning routine much quicker and will help your boys to learn independence. Boys beds with drawers or shelving are an excellent idea for maximising their space and it's a great idea to add some closed drawer storage such as tallboys or chest of drawers to give them somewhere to put away their clothes or toys. 
Find them a comfortable mattress
Getting a good night's sleep is essential for busy kids. Healthy growth and development is all about getting a quality night's sleep, so help your growing boys get comfortable at night with a mattress that properly supports their growing bodies. 
Hangout zones and sleepover essentials
Create space in your boy's bedroom for them to hang out and enjoy time with their friends. A great idea for a kid's bedroom is to consider bunk beds or a trundle bed for sleepovers. Find more ideas for kids sleepovers here.
Tips for choosing boys bedroom furniture
By now you probably have plenty of boys bedroom ideas to get you started but before you start shopping for new boys bedroom furniture, take some measurements to determine the space you have to work with and outline what you need in terms of storage. There are many children's bedroom furniture options, so starting with these two requirements in mind will allow you to narrow down the options from a functional standpoint before you get caught up in colours and materials.
Try our Bedroom Planner Tool to visualise how our bedroom furniture will fit in your room or visit our in-store for expert advice and guidance!
Handy planning tool
Planning the bedroom of your dreams is easier than you think, try our handy Bedroom Planner to see if your favourite bedroom suite will fit your room or visit us in-store today!