Girls bedroom ideas
Looking for bedroom ideas for girls? Whether you're moving to a new house, transforming a toddlers room into a young girls bedroom or simply for a bedroom refresh, look no further than your local Bedshed store. Our team understands the challenges and requirements of decorating and furnishing a bedroom perfect for your little girl.
The task of decorating and furnishing a girl's bedroom is all about finding the balance between convenience and practicality along with style, colour and theme. 
Our girls bedroom ideas will assist you in selecting the perfect furniture, bedding, lighting and colour for your girls room.
Selecting bedroom colours and themes
When choosing a theme or colour scheme for your girl's bedroom, our top tip is to opt for neutral wall colours. Kids' interests are ever evolving and will change quite quickly from the time they are young to their teen years. A neutral colour scheme will allow you to change the colours and styles of the room as easily as changing the bedding. If it's colour your kids prefer we suggest feature walls, as they will allow room for simple changes when your child's tastes alternate.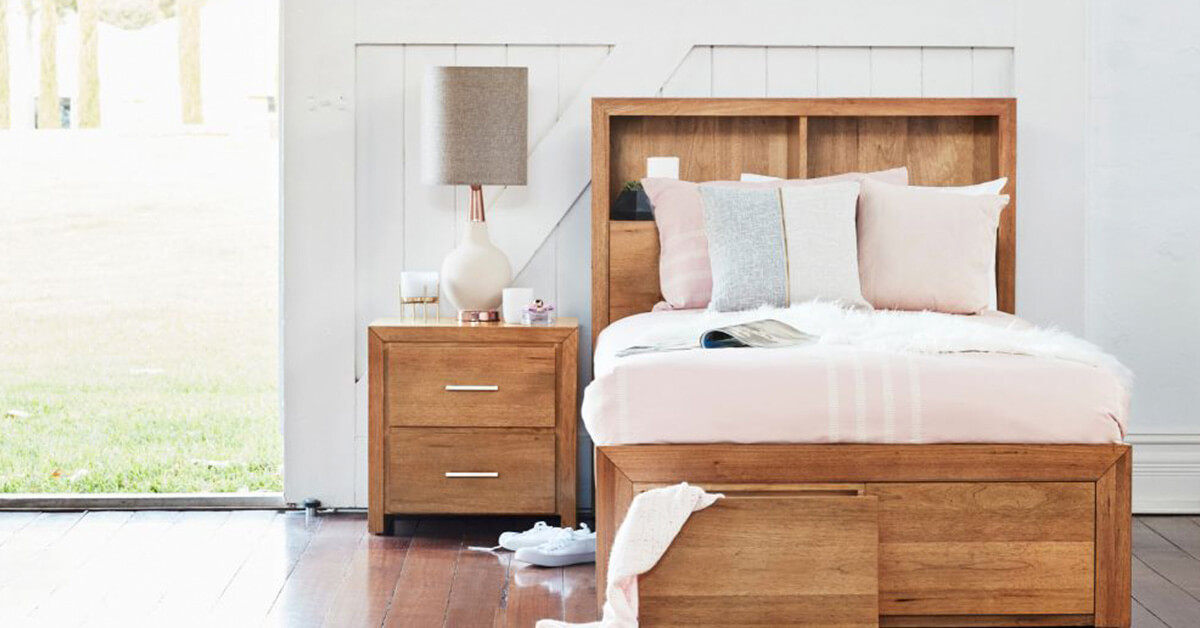 Girls bedroom furniture
Before you select new bedroom furniture for your little girl, ensure that you consider what features and look you require prior to shopping.  Having an idea of exactly what you need in terms of storage, colour, material and measurement will save you a lot of time.
Storage
If it's a small bedroom you're dealing with, Bedshed has a range of kid's bedroom furniture with generous storage options ideal for any girls room. Store children's books, soft toys and your girls clothes in tallboys, chest of drawers or even in a built-in storage space under their bed. One of the best bedroom ideas for teenage girls is to add a bed frame with shelving to their bedroom - this doubles as both storage and a display area for all their favourite things.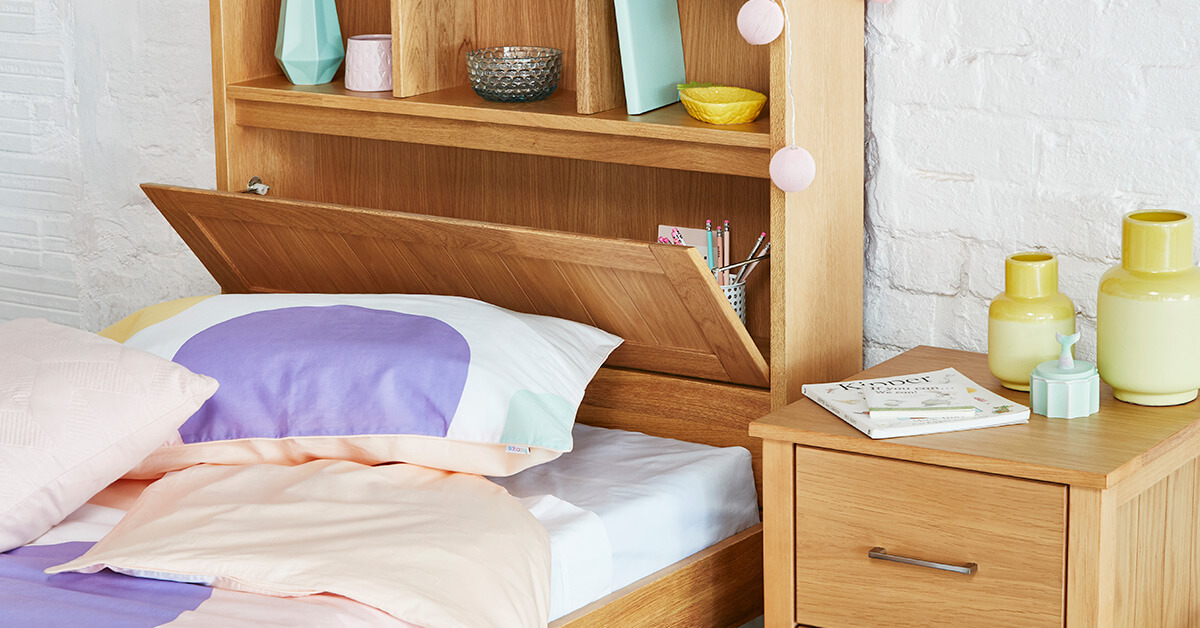 Versatility
The time seems to fly as our children get older, their interests and tastes also seem to change on a regular basis. If you are looking for bedroom furniture to last you the long haul, opt for a bed suite which is versatile in terms of style and colour schemes. For your little girl, look for beds and bedroom furniture that feature clever design and timeless style that will help your kids bedroom furniture to stand the test of time. We suggest swapping out decorations, sheets and pillow covers more regularly to change the look of your girls room. Make a girl's room fun and up the interior design stakes with small touches that fit their interests or preferences, pictures on the wall are simpler to change out then large furniture items like their bed. When it comes to approaching teenage girls' bedroom ideas you'll usually find that it's time to upgrade their bed and mattress to give them more room to stretch out.
Mattresses
A good night's sleep is a must for growing girls! Active kids need plenty of sleep to help them keep up with the demands of growing bodies and long days at school. Find them a mattress that provides the proper support and comfort they need to sleep.
Space for friend
Make room for your kid's friends to come and stay - a bunk bed or trundle bed can add functionality and will help to maximise space in your girl's bedroom. Find more tips for kids sleepovers here.
Lighting
Lighting can be a fun way to add colour and theme to a girls bedroom, and whilst they are still young a night-light may help them feel more comfortable in their bedroom. An important thing to keep in mind when selecting new lighting and the positioning of the lighting in the bedroom is of course safety.  We suggest you avoid any glass or ceramic bases and opt for fairy lights or plastic material bases and covers which are out of reach of the child.  Lighting can be a contributor in falling asleep at night, so avoid any harsh fluorescent lighting and go for low watt bulbs and dim lighting.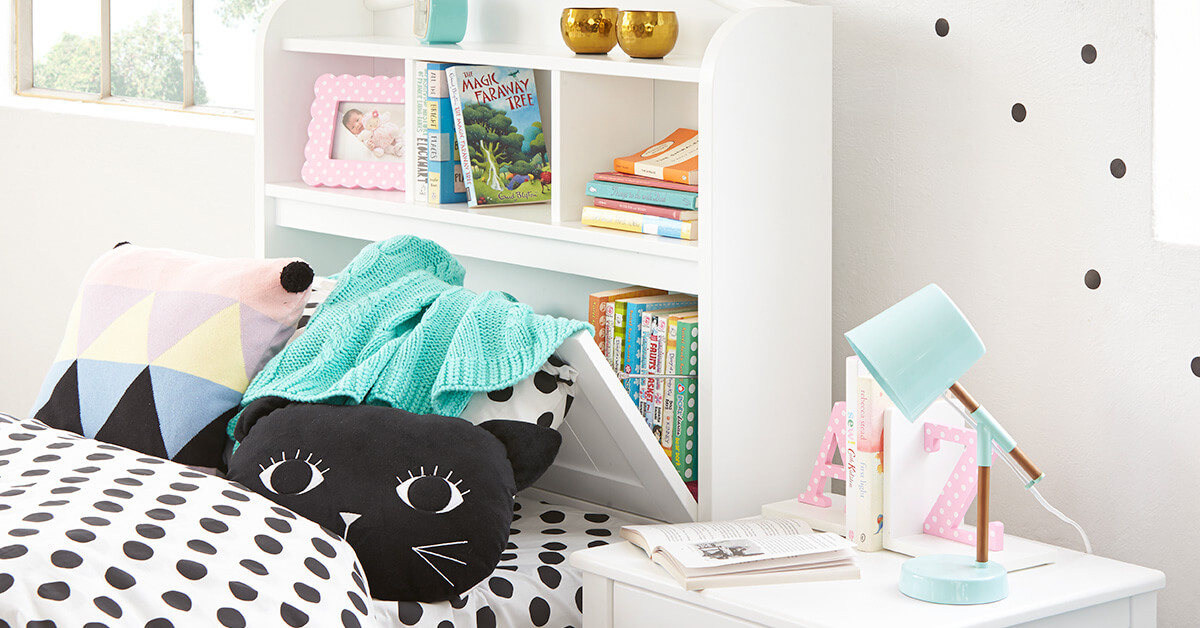 Try our Bedroom Planner Tool to visualise how our bedroom furniture will fit in your room or visit our in-store for expert advice and guidance!
Handy planning tool
Planning the bedroom of your dreams is easier than you think, try our handy Bedroom Planner to see if your favourite bedroom suite will fit your room or visit us in-store today!