The Ultimate Guide To Mattress Protectors
What is a mattress protector?
Mattress protectors add a removable, protective layer to your bed beneath your fitted sheet. They're often overlooked, but they're actually very important. Why? 
Because they can both prolong the life of your mattress and help to protect your health. You'll spend about one third of your life in bed, so when you think about it's a very good idea to invest in a mattress protector designed to protect your bed from spills and stains, wear and tear and unwelcome bacteria. A mattress protector can act as a shield against dust mites and moisture and even help you feel ensuring your sleeping space is always kept fresh and hygienic. 
But if you've never purchased one before, where should you start? Here are a few things you should consider. 
What do you need in a mattress protector?
Before you go shopping, it's best to start with why you need a mattress protector. Ask yourself;
This can help you to narrow down your choices and find the best mattress protector to fit your needs. 
What types of mattress protectors are there?
Waterproof
Moisture can damage your mattress and cause mould and mildew build-up. A waterproof mattress protector can help to prevent this issue by acting as a shield. Some mattress protectors are made from hydrophobic materials capable of repelling liquid, whilst others are water-resistant and made from absorbent material capable of soaking up liquids and moisture. Waterproof mattress protectors are a great choice if you're worried about spills, bedwetting or other potential accidents. 
Cooling
It can be difficult to sleep in the heat! If you find yourself overheating at night then a mattress protector made from cooling material can be an excellent solution, especially when paired with a cooling mattress like the Tempur Breeze or the Insignia Chiro Synergy mattress. Certain materials will feel cool to the touch or help to disperse heat when you are lying on your mattress which can help a lot when you're trying to sleep. 
Anti-bacterial
Some mattress protectors are constructed with treated materials that act like a membrane, shielding against bacteria, dust-mites and other allergens that could pose a serious risk to your health.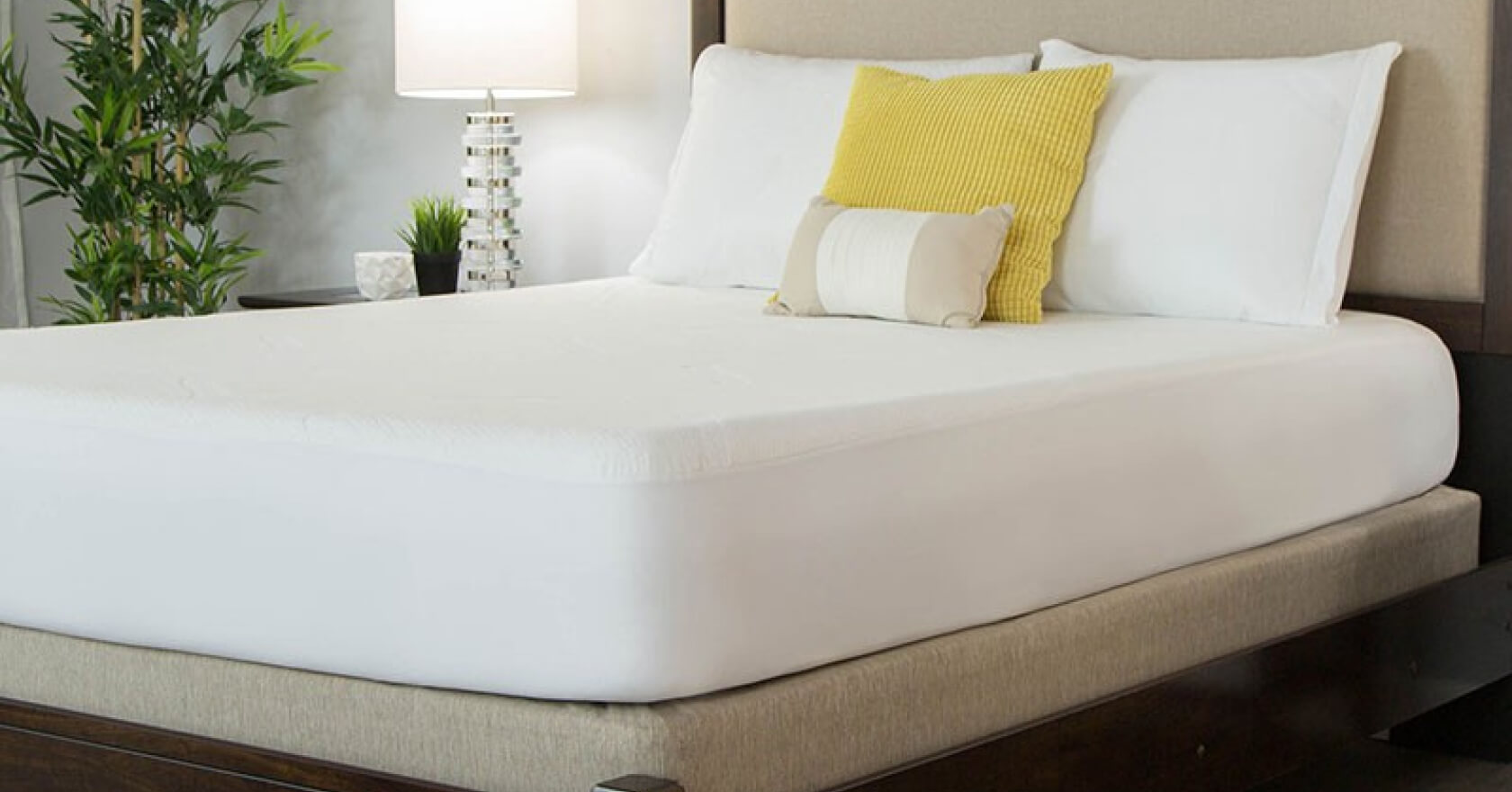 What are mattress protectors made from?
Cotton 
Many mattress protectors are made from natural cotton fibres. Cotton is a popular material for mattress protectors and bedding because it is breathable and soft.
Tencel
Tencel material is made from silky, eco-friendly fibres which feel cool to the touch. It's naturally moisture absorbent and a popular choice for those with sensitive skin. 
Bamboo
Bamboo is a popular fibre in mattress protector fabrics because it is breathable, silky and boasts natural antic-bacterial properties. 
Synthetic 
Mattress protectors may also be made up of a range of common synthetic fibres like polyester. Synthetic fibres are often waterproof and easy to keep clean. They're also often hypoallergenic and may be treated to offer better temperature control. 
Mix blends
To maximise the benefits of your mattress protector, many brands use a mix blend of fibres.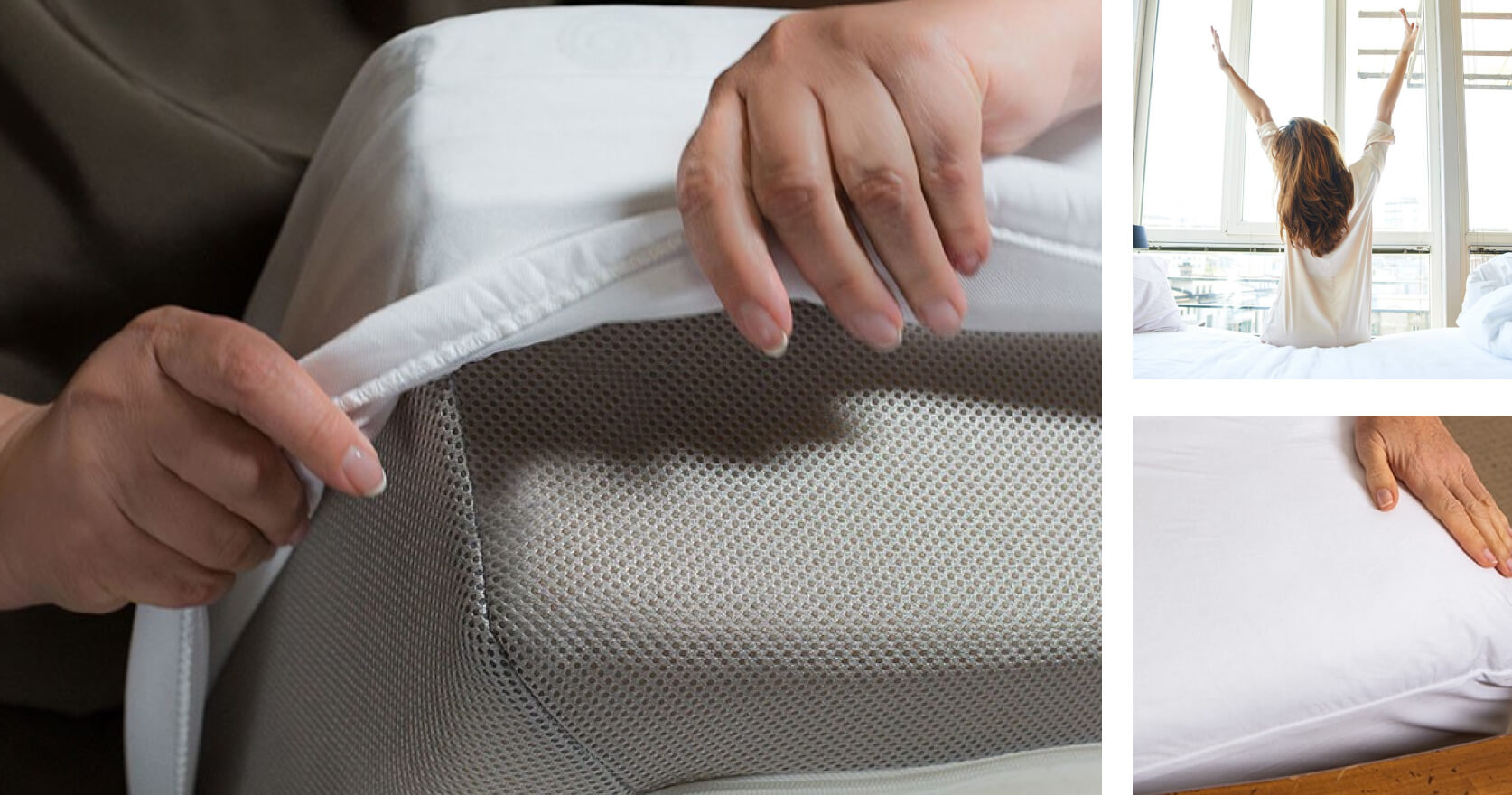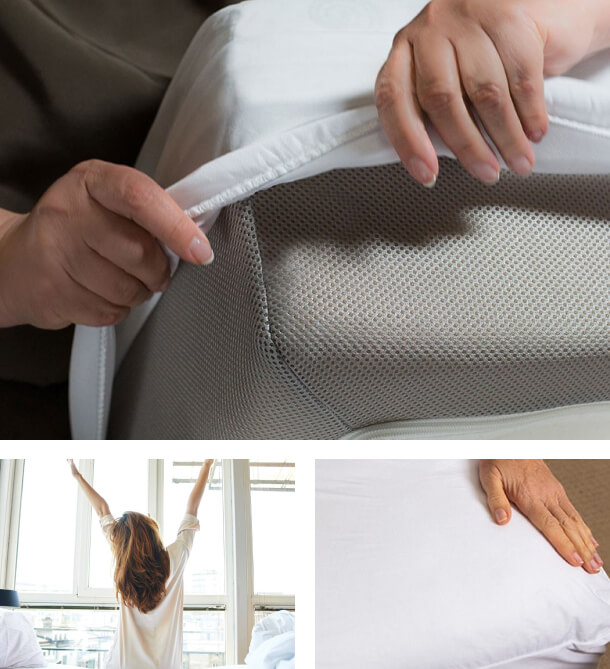 What to remember…
Fabric type and thickness
The type and thickness of the material is very important as it determines how protective your mattress protector really is. When shopping for a mattress protector keep and eye out for the thickness and 'pore' size of your protectors. As a general rule, you'll want to opt for anything with dust and allergen filters of 8 microns or less. 
How do you wash a mattress protector?
You should also consider the care and washing instructions of mattress protectors before you purchase. Is your mattress protector going to be machine washable or will you need to take it to the dry-cleaners? And how frequently does it need to be cared for? Look for easy care fabrics as this will save you a lot of time and money in the long run. 
How are they fitted to your bed?
There are a few common types of mattress protector designs that you are likely to come across. The option that best suits you is a matter of personal preference and the way you like to sleep. 
Elastic straps
Some mattress protectors are designed with a simple elastic strap which secures them in place and holds them snugly against the surface of your mattress. 
Fitted sheet
Mattress protectors also come in fitted styles that can be placed over your mattress, similar to your fitted sheet. Provided you get the right depth and size, fitted mattress protectors will stay secure and won't slip around when you sleep. 
Zip cover
Zip covers are mattress protectors that fully encase your mattress, providing optimal protection. 
Final tips...
Before you choose a mattress protector, make sure you check the dimensions of your mattress carefully. It's important to find a mattress protector that's a close fit to your bed, otherwise you might find that it slips and moves around at night which can be a major annoyance!
Here at Bedshed we understand how important it is to get the perfect night's sleep. Not only will investing in a mattress protector help to protect and enhance the life of your new mattress, it will also qualify you for our 60 Night Comfort Guarantee if you purchase a protector at the same time as your mattress. Shop with complete peace of mind of knowing that if you don't love your mattress after a 30-60 night period*, it can be exchanged for a new one.
*Conditions apply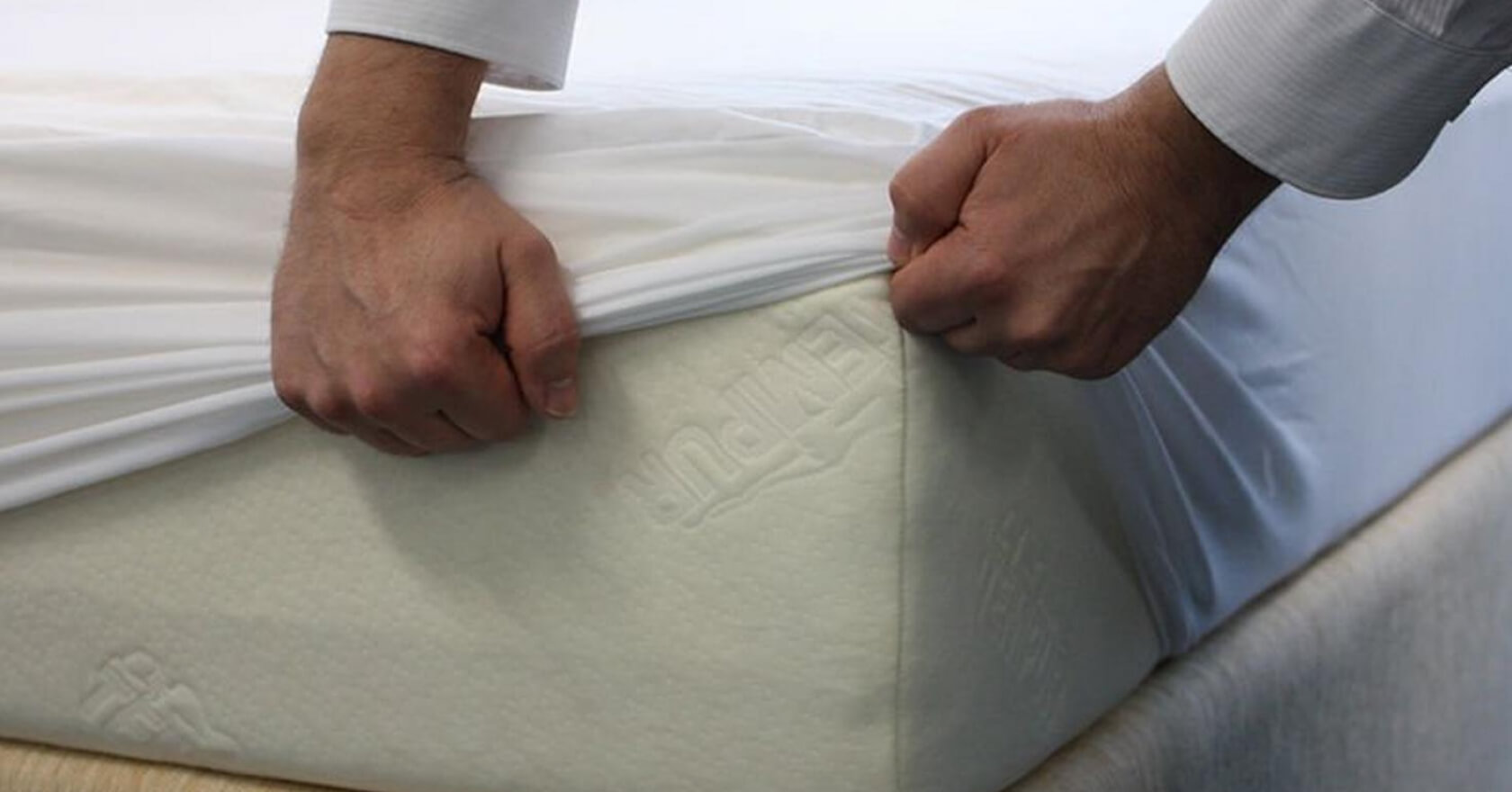 Our favourite mattress protector brands
Ready to start shopping? You can browse our full range of mattress protectors here, or drop by your local Bedshed store for guidance and advice from one of our mattress and bedding experts!