Inspired Bed Head Designs
A signature bed head is one of the most important and powerful elements of any bedroom. Your choice of bed head design is the focal point of your space, it frames your bed and sets the tone for your bedroom. A bed head can make your room feel warm and cozy, or classic and elegant. It can add a splash of colour or texture and perhaps even a little bit of drama. Your bed head design is your opportunity for creative expression, and to add a little bit of extra functionality to your bedroom. Without it, your space is likely to feel unfinished. 
Don't leave your bedroom feeling lacking, find a bed head design that perfectly expresses your taste and style. If you're looking for inspiration then check out some of the headboard designs we love below, or read more about our range here. 
Classic upholstered style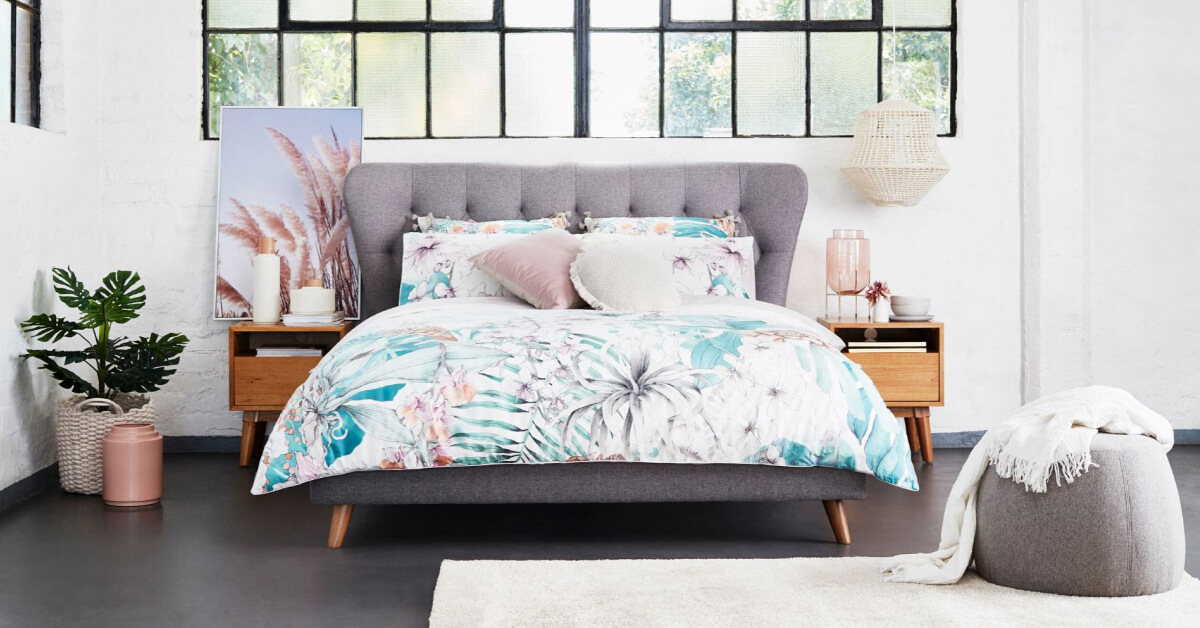 An upholstered bed head design like the one you'll find on our Alicia bed frame is a faithful favourite for a good reason – it looks great in any room. Classic upholstered designs are so versatile; they easily fit in with a variety of different styles. Tufted detailing and elegant wingbacks add a touch of luxury to your space and are versatile enough to pair beautifully with both country-style furniture pieces and ultra-modern décor. We recommend keeping the fabric colour neutral and dressing it up with your choice of linen and cushions for a fresher feel.
Sumptuous velvet options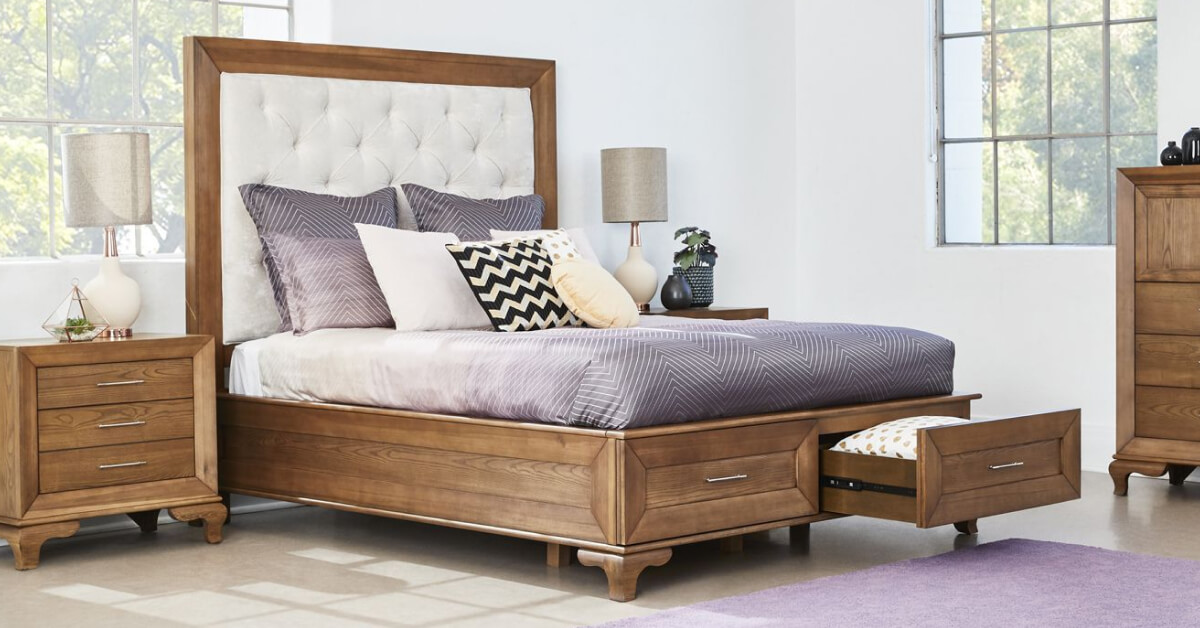 You can use your bed head as an opportunity to add texture to your room, and what better texture is there than soft, rich velvet? Our Florence bed frame makes a style statement with white velvet. It's an elegant choice for a master bedroom and will make your space feel as grand as any hotel. Many people overlook fabric choice when it comes to choosing a bed head design, instead they choose to focus on colour of design. Truthfully, fabric has more of an impact than you think and can tell a 'story' about your space. Velvet communicates luxury and grandeur, whilst linen might give off relaxed, coastal vibes. We think that nothing beats a bit of indulgence when it comes to your bedroom furniture.
Hamptons in the bedroom
We love a touch of classic Hamptons style and our Devon bed frame does this perfectly. Let an all-white bed head and bed base speak for themselves with beautiful bevelled design and clever storage options. Hamptons style bed heads are elegant in their simplicity. It's all about paring back your space and making considered design choices. Swap out busy patterns for a simple colour palette of white and blue, with pops of raw timber. For a bit of texture layer satin and linen fabric pillows against your new headboard. 
Form and function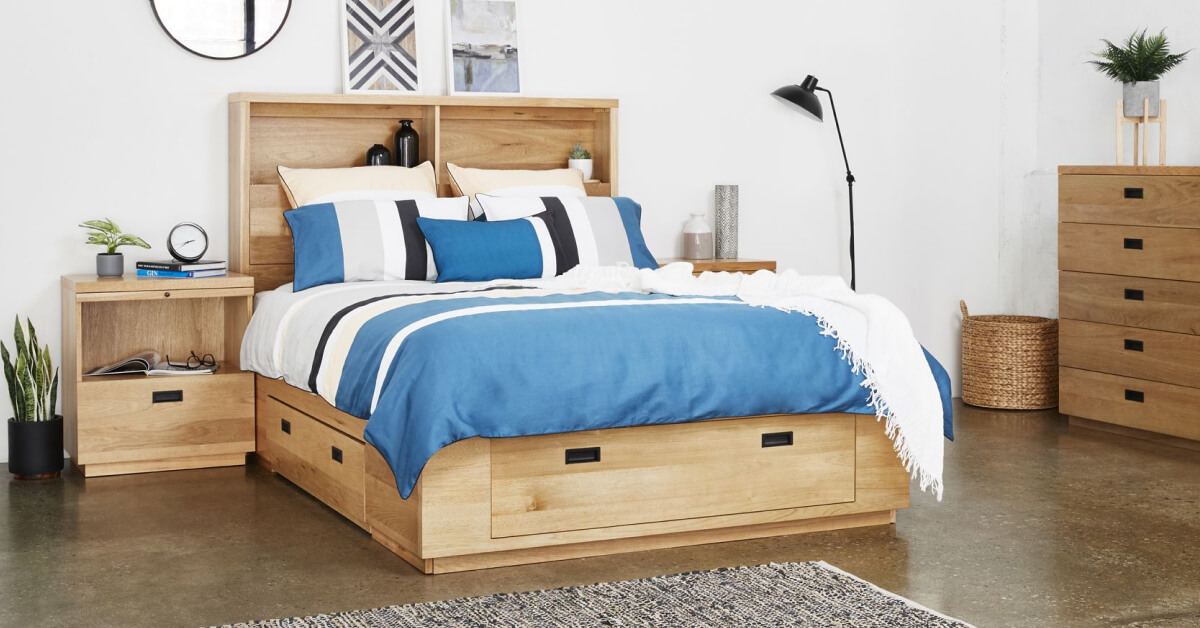 Your bed head can be so much more than just a beautiful design piece or a place to rest your head. Why let all that space go to waste? One of our favourite things to do with a bed head is to use it as storage space. Check out our clever Chelsea bed frame which includes a number of shelves for storing your items (and handy ambient lighting) or our Linden bed frame with it's beautiful in-built shelf. These are great for small and large bedrooms alike. If you're short on space then a little bit of extra storage squeezed into your bed head can make a big difference! Skip bedsides and keep all the things you want close at hand behind you. If you have plenty of room to work with then use the storage behind you as a space to put things on display – it's a great spot for a candle and a few books!
With our Mix & Match selector tool, you can create your own custom bed head and base!
Mix & Match Options
Use our online Mix & Match Selector tool to piece together the bed of your dreams with ease. You can select your favourite style of bed head, as well as a base type and colour that you love.
Mix & Match Infinity
Visit us in-store and get in the designers seat to create a bed that perfectly matches your individual style. You'll find a range of bed head styles, fabric options, embellishments and base options to choose from.
Need help visualising what your space will look like with a new bed frame and bed head? Try our handy bedroom planner tool or visit us in-store today!